This New York Times Article concerning Chinese funeral customs as also depicted in the third novel of The Funeral Planner Trilogy "The Funeral Planner Goes Global".
For more visit The Tribute Network.
For a Hmong Hero, a Lavish Farewell
by Mark Arax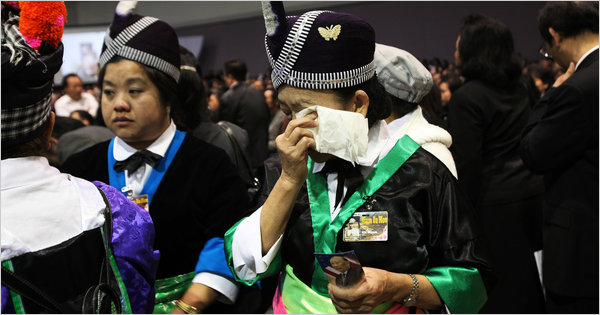 Mourners in Fresno, Calif., on Friday for the start of a funeral for Gen. Vang Pao, shown at top in 1969. The funeral was to last six days, twice as long as usual.
FRESNO, Calif. — If Vang Pao had died a simple farmer like so many other Hmong here, his funeral would have been an elaborate affair.
For three days, as Hmong custom has it, his family and friends would have mourned in high-pitched chants, feasted on freshly slaughtered beef and burned a giant pile of paper money to buy his soul into the spirit world.
But Gen. Vang Pao was no plain Hmong elder, and his death last month at age 81 has brought forth no ordinary grief. He is known to his people as the general, the hero of the Central Intelligence Agency's long-ago secret war in the jungles of Laos, a man who was leaving behind 25 children, 68 grandchildren and an uprooted nation of Hmong refugees who regard him as something near a king.
So his funeral — six days and nights, with 10 cows slaughtered and stir-fried each day — has become a send-off for the ages.
It began last Friday, his body borne on a horse-drawn carriage through the streets of downtown Fresno, throngs of grieving Hmong lining the way. Scottish bagpipers played "The Green Hills of Tyrol" and two T-28 planes, the aircraft piloted by Hmong guerrilla fighters in the Vietnam War, flew overhead.
And the funeral rolled down a long red carpet through the weekend, as thousands more Hmong from across the country, and some from as far away as Thailand and France, strode into the convention center of this farming capital of California to say goodbye.
Many of the Hmong here — tens of thousands of tribal people who immigrated from Thai refugee camps in the 1970s, '80s and '90s — wanted to see General Vang Pao buried at Arlington National Cemetery with full military honors, befitting a man, they say, whose Hmong battalions saved the lives of many downed American pilots. On Friday, however, the Pentagon announced that it had denied the family's request to waive the policy that restricts military burials at Arlington to American service members.
General Vang Pao's family and friends said they were "very disappointed" by the decision. "The C.I.A. recruited Gen. Vang Pao in 1961 to lead a guerrilla force," a statement read. "He fought in combat situations for 15 years. The covert war resulted in the death of 35,000 of the general's men. We strongly believe the right thing to do is to honor his contributions to the United States."
General Vang Pao was certainly given a hero's farewell in Fresno. His body rested in a coffin made of wood, right down to its nails. Hmong custom holds that a single piece of metal, planted by a rival clan, can block the soul's journey. His coffin was draped by a United States flag.
All through the cavernous hall, men in wide suits and women in ornately patterned home-sewn garments, their hats the color of eggplant, mourned and gossiped and drank and ate while their children and grandchildren snapped photos on their cellphones.
It was, in some respects, a state funeral for a people who, decades after landing in the United States as slash-and-burn farmers new to written language, could still see themselves as stateless.
"I have been crying for weeks," said Youa Vang, a distant cousin of the general who buried her soldier husband almost 40 years ago in their Laotian mountain village.
"I worry that the Americans will treat us differently now that our father is gone," she said. "Tell the Americans to still love us the same way."
General Vang Pao died of pneumonia on Jan. 6, after celebrating Hmong New Year in Fresno. That it took a full month to stage the service spoke to its intricate pageantry and the general's singular standing, but also to the rifts that simmer among the 18 Hmong clans over how to conduct their affairs in this land of exile.
In the end, clan leaders decided, a three-day service would not be sufficient. The shamans would need double that time to guide the general's outsize soul back to his birthplace, the highlands of Laos.
If this was a traditional Hmong funeral, it came with plenty of modifications, said Lee Vang, a nephew of the general who helped organize the service.
There were 30 spiritual guides instead of one. The wood coffin was not like those usually favored by the Hmong: Orthodox Jewish models with the Star of David engraved on top. This coffin, the nephew said, had been planed and carved and flown in by a team of Hmong men from St. Paul.
As congressmen and state senators and retired C.I.A. agents filed in to deliver speeches and bow their heads, a scattering of old guerrilla fighters stood outside in the winter sun, puffing on Marlboro cigarettes.
Xa Chao Xiong, 63, was dressed in a camouflage uniform that came not from his years as a jungle warrior, but from a recent shopping spree at the local Army surplus store.
"I wear this uniform for my general," he said through a translator. After 20 years in America, he apologized for not knowing English. "Today, I am a soldier again."