Lynn Isenberg
Writer/Producer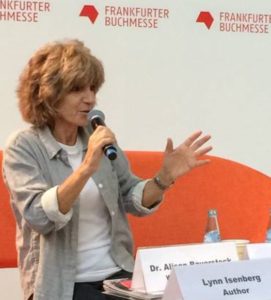 Lynn Isenberg is an accomplished WGA award winning screenwriter-producer for film/television, novels, and non-fiction. The art of imagination launched her on a creative path when in third grade, her story KING C was selected for Oakland University's Young Authors Conference. From there, she propelled herself to LA to write and produce Hollywood mainstream movies where she racked up film/TV/streaming credits on MGM's Youngblood, Tri-Star Picture's I Love You to Death, Mistral Pictures' dance drama True Vinyl, Showtime's Bordello, Fine Living Network's I::Design, Fox's Ally McBeal, the First Internet Film & Music Festival (IFMF) which she architected into the Sundance Online Film Festival.  From there she has written four entrepreneurial comedy novels: My Life Uncovered,  The Funeral Planner, The Funeral Planner Goes to the White House, The Funeral Planner Goes Global.  Her TFP comedy novel received front page publicity in the New York Times landing her guest appearances on NBC, CBS, NPR, and a Celebrity Partnership with 1800Flowers. The Funeral Planner has over one million online reads and is now being adapted into an international TV series. Her non-fiction works include the critically acclaimed Author Power: Profit Before You Publish.
She is a recipient of the Academy of Motion Picture Arts & Sciences Nicholl Screenwriting Fellowship Award.  She has engaged in hundreds of speaking engagements about her novels and is known as the founder of the Hollywood LIT Retreat.
Isenberg resides in Marina del Rey, CA. She holds a Masters in Spiritual Psychology from USM, a BA in English Language, Literature & Film Studies, and MBA/Entrepreneurial Studies Audit from the University of Michigan.
For Lynn's development & production slates, visit her IMDb page. Isenberg is repped by Literary Manager Jeff Field of Field Entertainment and Attorney Peter Nichols of Lichter, Grossman Nichols Adler Feldman & Clark.
Founder
Awards & Associations
Education
Adjunct Professor
Founder
Awards & Associations
Education
Adjunct Professor
Coming Soon
Projects in Development
Finding Opportunities
Creating Unified Success